The next gig for The Norwesterlies will be at Joe's Market Garden on Saturday September 30 on the Merri Creek Coburg, kicking off about 9.30 am. It's beautiful space with a great vibe, freshly grown organic veges, homemade snacks and great coffee! Below is a photo from when we played there last time in June.
(Please note for anyone planning to come to the August 19 gig at Joe's has been cancelled due to a band member's health and family issues – apologies for this!)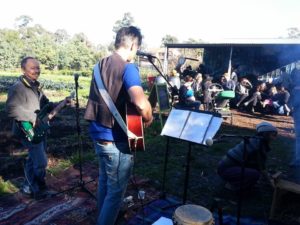 Got a few other gigs for both The Norwesterlies and The Sussex Skylarks in the pipeline, watch this space for other new gigs to be announced!